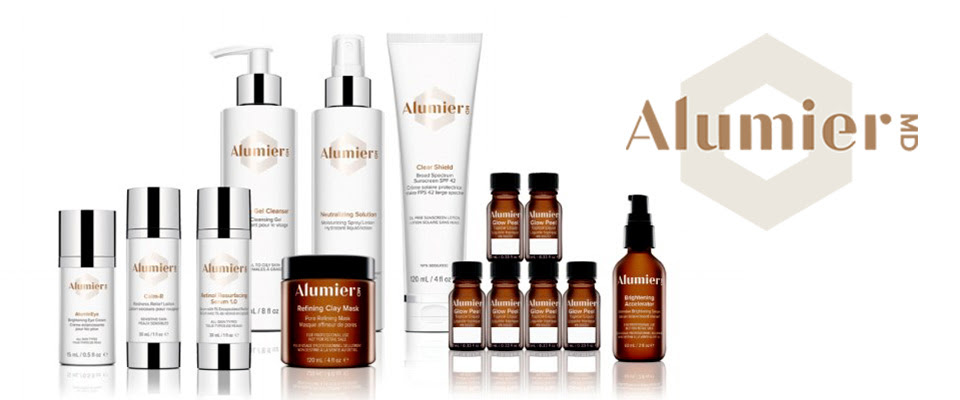 AlumierMD Professional Peels
AlumierMD Peel Treatments are the next generation of clinical exfoliation.
AlumierMD was created by a global team of experienced PhD biochemists, physicians and skin care specialists. They developed scientific formulations using innovative ingredients at optimal levels within advanced delivery systems. With a variety of peels, each with a unique complex of ingredients, your AlumierMD specialist, can customise you a personal program of treatments to target your specific skin concerns whether it be aging, pigmentation or acne.
This unique experience includes an exfoliating peel treatment, brightening enhancement followed
by prescriptive targets serums which reveal a more radiant, soft and luminous skin.
After researching and sampling many other products, I decided that I liked the whole ethos of the company, the products feel beautiful and the packaging all look luxurious. This 'Luxury Medical' brand ticked all boxes for me!!
THE SCIENCE BEHIND GREAT SKIN:
"AlumierMD was born out of an understanding that everyone wants clear, beautiful skin. We assembled a team of top scientists and physicians to bring you the most effective formulations using optimal medicalgrade ingredients.
With over 100 years of combined skincare experience, our experts understand the physiology behind different skin types and conditions to help our clients achieve a youthful glow.
Because we focus on the science behind great skin, we know that it starts with identifying and understanding each of our client's skin profiles. Our comprehensive medical skin care line includes state of the art science-based, luxurious formulations with innovative delivery systems. These products address multiple skin concerns, deliver results and perform progressively over time."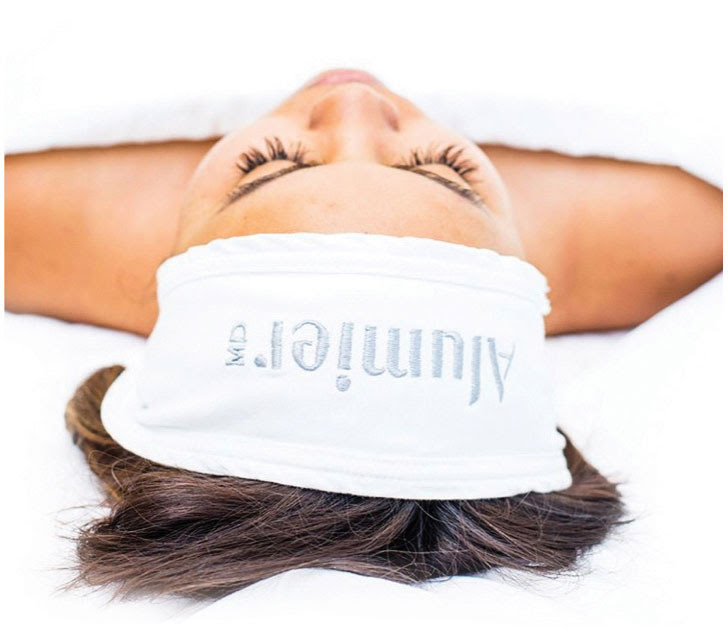 No matter whether you suffer from Acne, Pigmentation or Anti-aging, Dry or Dehydrated skin, even combination skin that has lost its glow, we can combine bespoke peels or facials with homecare to get you feeling and looking fabulous.
Alumier Products & Prices
Dry, Normal, Oily, Dehydrated, Acne, Hyperpigmentation & Ageing
Glow Peel combines lactic acid, salicylic acid and resorcinol, creating a multipurpose resurfacing solution effective in minimizing the appearance of fine lines, wrinkles and hyperpigmentation issues like age spots, discolouration and uneven skin tone. This formula exfoliates dead skin cells and
stimulates cell renewal. To suit individual needs, Glow Peel can be customized by strength and by a number of layers.
Acne, hyperpigmentation, uneven skin tone, congestion, open pores & oiliness
With lactic and salicylic acid, radiant 20/10 resurfacing peel contains a powerful combination of them both which improves skin tone and texture by exfoliating dead skin cells and speeding cell turnover. The multipurpose resurfacing peel reduces acne pimples and minimizes the appearance of fine lines and wrinkles, large pores, hyperpigmentation and sun damage.
Hyperpigmentation, Uneven Skin tone, dull skin, line & wrinkles
Radiant 30 is an alpha hydroxy acid resurfacing peel containing lactic acid to exfoliate dead skin
cells. Boost cell turnover and stimulate collagen, improving skin texture and tone.
This multifunctional peel targets multiple skin conditions, including fine lines and wrinkles, discoloration, sun damage and large pores.
AlumierMD RADIANT 30 INC DERMAPLANING
Dermaplaning followed by an alpha hydroxy acid resurfacing peel containing lactic acid to exfoliate dead skin cells to treat fine lines, wrinkles, sun damage, pigmentation and even out skin tone and texture.
AlumierMD Express Hydrating Facial
Acne, hyperpigmentation, uneven skin tone, congestion, open pores & oiliness
The AlumierMD Express Hydrating Facial is the best choice for those who need a deep cleanse but do not have a lot of time. It combines high performing active ingredients with a thorough deep cleanse to address your skin concerns. This experience includes a lymphatic drainage massage that will help release toxins in the skin while relaxing the body and mind. As your highly trained AlumierMD specialist, I will customise your treatment, which will leave you looking incredibly radiant and feeling refreshed and balanced.
Combines fruit enzymes to exfoliate dead skin cells and promote skin renewal.
Minimises the appearance of fine lines, wrinkles and hyperpigmentation.
A highly effective and gentle fruit enzyme resurfacing solution for most skin types.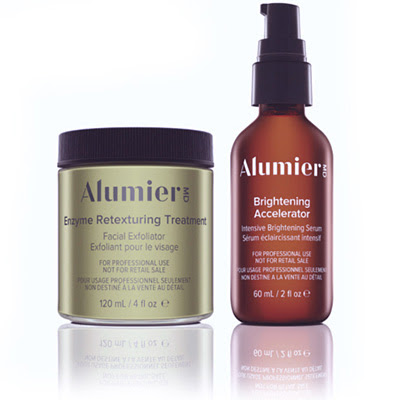 Calming and anti-inflammatory ingredients draw out oil, dirt and toxins, and enhance skin renewal for a clearer and more radiant complexion. -Beraclay, bentonite and rosa canina fruit extract draw out impurities and improve the appearance of oily skin and pore size.
A soothing and decongesting facial mask ideal for normal to oily skin types
Acne/Rosacea/Pigmentation/Anti-Ageing.
A COMPREHENSIVE RANGE WHICH INCLUDES;
Cleansers
Exfoliators
Serums
Moisturisers
Sunscreens
Retinols

We can discuss this on your appointment about which products are best suited for your skin type and condition.
A lovely facial with a relaxing massage. Booked a classical facial from neena and as mentioned in other comments; she is brilliant at her job. I was well impressed with her and give her hats off for putting her heart and soul to her professional. She utilised each and every moment of that hour on providing me best service. Thanks a lot Neena.... you have found a loyal customer now. See you soon xx
She gave me lots of advice I had the lymphatic drainage facial and it was very relaxing! My skin felt so soft and amazing even the following day. Nina is attentive, professional and friendly. She gave me lots of advice following the treatment and I would definitely return to her for any further treatments.
Wonderful experience. Nina is lovely and friendly. Relaxing atmosphere. My face had never felt so clean and refreshed and I can say that it had an effect on removing fine lines and helped to make the bags under my eyes appear less prominent. I was shocked! I am so looking forward to returning for another facial. Nothing is too much trouble for Nina and she's happy to give you skin care advice
so happy and so impressed. I find her amazing facials incredibly soothing with really good resullts with the added touch of her healing hands as a bonus Great as a pick me up.!!Or have a special event! She genuinely cares about what she recommends to you as a client to enchance your looks and how to maintain your skin there after. Prices are so affordable compared to others who dont offer half as much ongoing care and results that she does, just cant say enough!.....so happy and so impressed.
Amazing Facial! Nina is amazing , her facials are so relaxing, she offers excellent skin care advice and the prices are affordable.
Seriously one of the best facials I have had. Nina is very friendly and professional. Gave me a fantastic beauty tip which I won't reveal. You'll have to go and see her!
I was super impressed with Nina's facial treatment and her friendly and professional attitude towards me. I've had many facials over the years and with a (very good) beautician in the family already, I have a high expectation when it comes to all matters relating to beauty treatments. Nina did not disappoint and I will continue to use her on-going and have already recommended her to friends and family.
Nina is an absolutely lovely and friendly person who takes great pride and attention in the service and treatments that she offers from her cosy and ambient salon. She has made my skin look brilliant with the facials that she does for me and I am thoroughly happy and satisfied with Nina. I always come away feeling very chilled, relaxed, happy with beautiful glowing skin. I would recommend anyone to visit Nina's salon as I can assure you that you will not leave disappointed
Not only an amazing facial... I have been going to Nina for about 3 months for dermabrasion facial. After spending years fighting spots, trying everything and anything this has to be a miracle cure. Not only an amazing facial but the deep cleansing and little hour out of life in her sanctuary is heaven. My skin is so much clearer, softer and notably spotless