Female Laser Hair Removal
No more shaving | No more waxing.
Our laser treatments provide permanent hair reduction using the latest technology from Xlase Plus, Diode to suit all skin types.
Embrace hair free, smoothness all year round.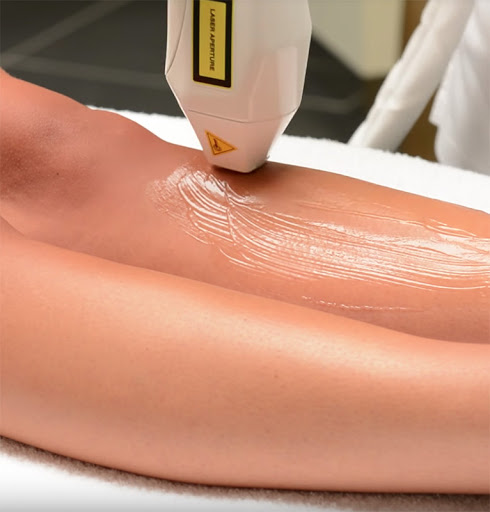 THE DIODE LASER APPLICATOR has been designed in response to the high demand for the removal of unwanted hair in all body areas. Diode Laser hair removal is one of the most comfortable procedures for hair removal. A slight discomfort may be sensed as treated area but no topical anaesthetics are necessary for this procedure.
THE DIODE APPLICATOR is considered the "gold-standard" of hair-removal lasers as it can be used to treat all skin types effectively and with the fewest number of treatments. The laser emits near-infrared laser light that is absorbed by the melanin located in the hair follicle. The laser is pulsed for only a fraction of a second. The duration of each pulse is long enough to damage the follicle, without damaging the surrounding tissue.
It offers the ability to treat large areas fast with high efficacy and comfort. 6-12 sessions, are required in order to completely remove hair, with just a few touch ups that may be required over time.
At UrSkin we are delighted to offer the World's Most Advanced and Versatile Laser treatment technology for permanent hair reduction.
Xlase Plus Diode Laser from Biotec, have won industry accolades for:
Laser Plus can treat all types of skin and most hair colour, ensuring fast hair removal treatments with maximum comfort to even the darkest skin.
Just 6-12 sessions (depending on hair type) are usually required in order to permanently reduce hair.
Free Consultation & Patch test
Please see opposite to book your Consultation or call us on 07809 217707.
I was amazed with the results Currently I am undergoing IPL treatment at Nina's clinic. Due to a previous bad experiences whereby the treatment was not effective, I was glad to find Nina's clinic. As many of you may know, it is very difficult to find a good affordable clinic, run by someone with the knowledge and qualifications to carry out such a service. I came across Nina's advert on the internet and decided to contact her and book a patch test. Before the test took place, she briefed me about the treatment and any problems I may incure. After the patch test i booked my first session and i started to notice a difference straight away. I was amazed with the results as it was proof that the treatment had been effective. To any of you reading this, I highly recommend Nina's clinic. She is affordable, trustworthy and a true professional. Coupled with her outstanding service and great product knowledge, she provides a relaxed and comfortable environment.
Nina is absolutely incredible! My skin has never looked better and I've only had 6 laser hair removal treatments. Would highly recommend, she knows her stuff and does such an amazing job 🙂 I couldn't thank her enough